Main Screen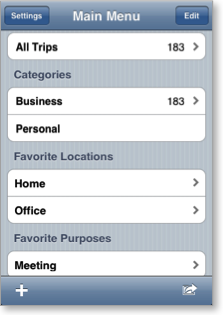 The main screen looks like a simple list of categories, but it does a lot more. Each category shows the number of miles currently logged, helping you decide when to submit your next expense report. The Edit button allows you to customize the category list. You can add and delete categories in case our default categories do not fit your needs. You can also reorder categories to place your most frequently used category at the top. Finally, the toolbar at the bottom of the screen allows you to quickly add a trip to the top category in the list and to generate an email report on your trips.
Trip List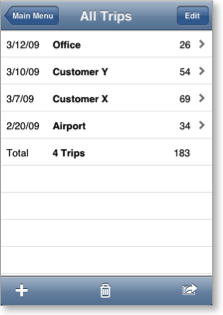 Tapping on any of the categories on the main screen brings you to a listing of all the trips logged under that category. The trip list gives you a quick glance at the date, destination or purpose (if there is no destination), and distance for each trip. You can tap on any of the trips to view more details. The toolbar functions are the same as on the main screen, with buttons to add a trip or create an email report. From within the trip list, the category for the add trip and create report buttons default to the current category.
Trip Editor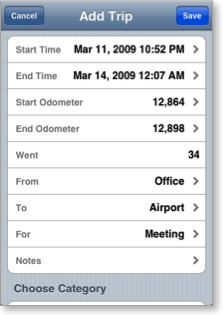 For each trip, you can enter the date, the distance, origin and destination, a purpose, and select a category. All of the fields are optional. This means you can reduce the chance of forgetting a trip by entering it as soon as you start it and then coming back later to put in the mileage. Or, if you just care about the destination of a trip and not the origin, you can speed up your data entry by just entering an origin.
Report Creator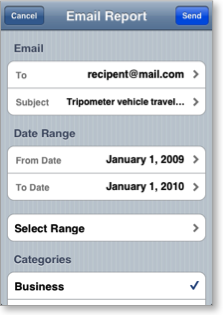 You can create quick email reports on your mileage by clicking the report button from either the main screen or a trip list. Quick date ranges allow you to create weekly, monthly, or annual reports. The category of trips you were viewing when you clicked the report button is automatically selected. A preview list at the bottom of the report creator helps you make sure you make all of the correct selections. Once you have set up the report correctly, press the Send button and the report is sent from our email servers. The report is comma separated for easy importation into a spreadsheet program.